Quilt History
Today's Quilt Historians
Underground Railroad
Women at Work
---
Antique swatches pictured below are from the collection of Kimberly Wulfert unless otherwise stated. Copies of these swatches for personal gain, or any other use than one copy for your personal file is strictly prohibited.

Chocolates - 1870s-1880s
Chocolate is the term used today to describe a cotton printed with either a white ground or a blue/gray ground and a dark brown motif on top. The first four swatches use a white ground, and the next five use a blue/gray ground. Printworks would favor one or the other. It can be difficult to tell without being able to see the back of the print. I have shown two backs below.

Generally the motifs were small to medium in size, stripes were common, with designs within them, and geometrics were popular then and made in the chocolate colorway.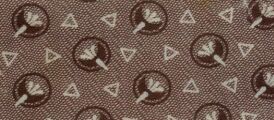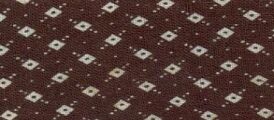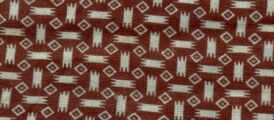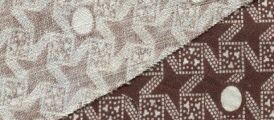 The gray/blue ground chocolates start here. You can see that it can be difficult to tell the difference.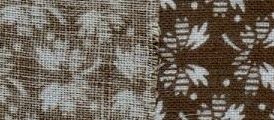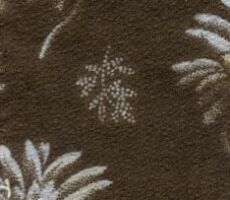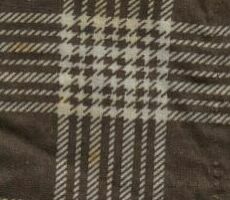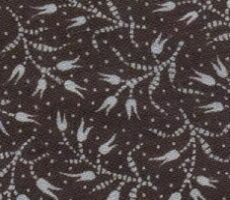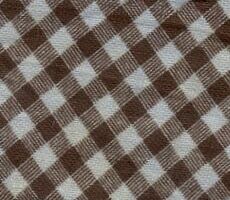 * Fabrics & Dyes

© 2002 - 2016 Kimberly Wulfert, PhD. Absolutely no copies, reprints, use of photos or text are permitted for commercial or online use. One personal copy for study purposes is permitted.
Fabrics & Dyes
Rugs & Textiles
Books & Reviews
Resource Links
Home
---
Visit my
online shop ...
for quilt history lovers!
* Gifts & Jewelry,
* Books & Stationery,
* Archival Supplies,
* DVDs,
* Quiltmaker Supplies.