Gloria was born in Durham in the mid-1950s, and stayed in north eastern England, raising her four teenage children with her husband of 20 years. She was a teacher of English and drama, becoming head of year. As the times changed, so did Gloria's "day" job. Now she is the Head of Information Communication Technology, which teaches children age 11 to 16 to use computers and other forms of media to communicate with the public. In her spare time she is pursuing a distance learning course from City and Guilds*. Her study primarily focuses on embroidery, but her sewing activities span the needle arts, but you will see she also makes contemporary quilts. In part one of this article she shares the bone needlework collection her In-Laws have gathered over the years. In the second part, Gloria talks about her sewing activities in England and shows us her own collection of old needlework tools, which are procured in a more modern way than her in-laws had available.

My husband's parents, Eric and Dorothy, have spent thirty years collecting bone items, and many of them are embroidery related. They have one or two items that date from the eighteenth century but most of their items date from the nineteenth century. They have collected their pieces from antique shops, antique fairs, and car boot sales in and around Gloucestershire and Durham. Occasionally, they have found a piece whilst on holiday in various parts of England.

They have quite a large collection now of hundreds of pieces. In the first ten years things cost around about fifty pence or even less. These days they are paying forty to fifty pounds for the same things.

Many items, the ones that I am fascinated in, are embroidery items. It always amazes me that such fine, delicate work could be produced by things that were often crude and difficult to work with. A lot of the work has survived the tests of time proving the determination and achievement of those needlewomen. Working by candlelight must have been a nightmare too.

I love to listen to Eric talking about his collection and the fact that he remembers his mother using similar tools. Most of the items date from the nineteenth century and were probably used by the common folk, who, in many cases, will have carved the pieces themselves. After all we are resourceful when there is a need.

Needles were scarce and costly in this period of needlework. They had to be protected, as they were small and easy to lose so needle cases were a must.

This is an example of a needle case, with a screw top lid.
Below is another example but I have left the lid screwed on this time. This is a bodkin case.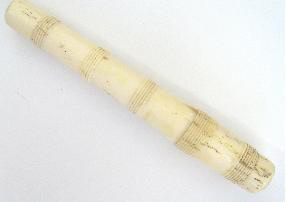 The following pictures show it open with the original bodkins.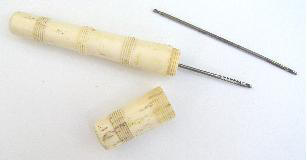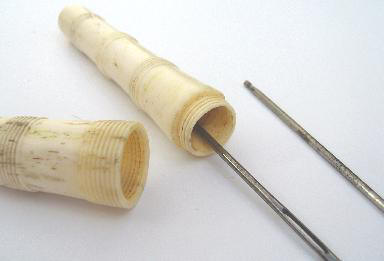 I love all of the different shapes and designs of thread winders. These were used mainly to protect the fine silk fibres used. The fibres were loose so they were wound onto a holder to stop them from becoming tangled.
Notice that two of them still have the price attached.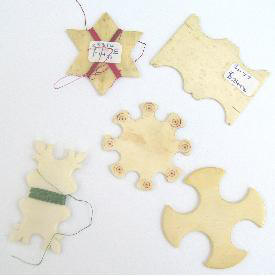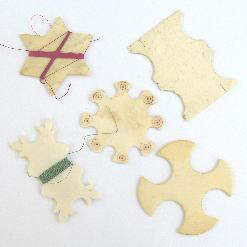 Antique Sewing & Needlework Tools - Collecting Bone, page 2
Article text and pictures Copyright © 2007 by Gloria Brunning. All rights reserved.