English quilter, textile researcher & historian Celia Eddy has just written her sixth quilt book, Quilted Planet, A Sourcebook of Quilting Traditions and Techniques Around the World, which focuses on quilts made today & yesterday, far & wide around our world.
The Personal Side | Genesis and Scope of the Book |
Page two: Quilts in "Quilted Planet" | British Quilt Study Group | Contact Info
The Personal Side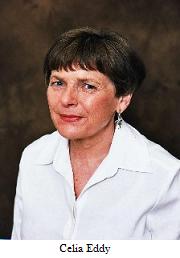 Celia's newest quilt book is international in scope, as is her personal story. She began quilting about 30 years ago. Oriental Patchwork, by Maggie Lane, was one of the first books she read about quiltmaking. She "fell in love with the style of Japanese patchwork dating back to the 16th century." The method, look and symbolism she discovered about it inspired her immensely. She said "I've made every member of my family at least one such patchwork garment, and some for special friends, as gestures of love and respect. Being able to include information about Japanese patchwork and quilting in QP was a great joy." It looks similar to the crazy style without fancy embellishments. (for a picture see pages 26-29 in QP)

| | |
| --- | --- |
| Well known for her books on different quilt making methods, use of color and block designs, Celia recognized the universality of quilted textiles and patchworks through time and across geographic locations. QP is fully loaded, with 250 photographs, large sized full shots and large sized detail shots. Sometimes I ran my hand across the photos I was so fooled for a moment. The colors are rich. Save about a dozen, the quilts were fresh to my eyes and her captions both interesting and informative. They contain tidbits of history, whether it be cultural, historical, textile or about provenance. In fact, most of the book's pages are dedicated to photographs. Describing textile cultural traditions of a region introduces chapters and each quilt. Full size quilts, cushions, wall hangings, clothing and other quilted items specific to a region's traditions are shown. Each chapter has traditional and contemporary art quilts, with some of them made by quilters known here; for example, Pat Campbell from Texas, Ted Storm-van Weelden from Netherlands, and Judy Severson from California. | |
| | |
| --- | --- |
| | There is another side of Celia's current life which I was surprised to discover. It is a unique part of her and Tim's life at home. Tim Longville has been her partner for the last 33 years. Atop low sandy cliffs, called "Sea Brows", which run along the edge of the Solway Firth, sits their mid-Victorian town house situated on the edge of a "cobbled square of eighteenth and early nineteenth century houses." The Solway Firth is the stretch of water dividing north-west England from south-west Scotland. There are wonderful views across the Firth to the hills of Dumfriesshire and Galloway. On a clear day, Celia said they can see the hills on the Isle of Man to the south. |
| | |
| --- | --- |
| Together Celia and Tim restored it to the period featuring all the glorious details it offered them. They decorated it in furnishings from the time, turning The Brown House into their home for the last twenty years. She displays quilts she made all around their three-story home, on top of tables and as throws, folded, and on the walls. Although Celia doesn't call herself a collector, she is a quilt maker and does have a few antique quilts in her private collection. She acquires quilts with a known provenance, either local or significant to her. They are avid collectors of books about their favorite subjects and each built up a substantial library room in their home. Tim, also an author, is a gardening journalist, a poet and a publisher, a "general man-about-letters," as they say in England. | |
| | |
| --- | --- |
| With Celia's art flanking the walls inside, Tim engaged his artistry to build a "secret garden" in-between the Victorian red sandstone walls of their back yard. Given their warmer coastal climate, he was able to fill his garden with "rare and semi-tender plants." About 10 years ago the National Gardens Scheme asked him to open his garden to the public for tours, which he agreed to on behalf of this charity. Little did either of them know then how this would change their life. | |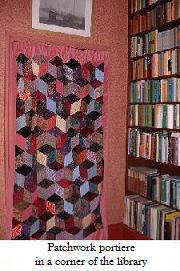 "It all began the first time we ever opened the garden to the public for charity. Visitors had to come into the hallway to pay, thence into the garden. Our daughter was on duty selling tickets, while we were fully occupied with the hordes in the garden. Suddenly Vaseema came racing into the garden: 'Come quick. They're all over the house!' It hadn't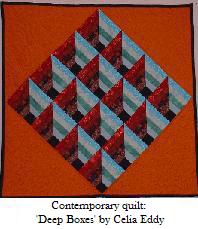 occurred to us to rope off the rest of the house, so seeing quilts hanging up the stairwell, many people had decided to follow the quilt trail rather than going straight into the garden. Sure enough, they'd got as far as the attics and were enjoying a good look at everything. There was nothing for me to do but talk them through what was there, but it gave me the idea of opening specifically to show the quilts and my Workroom. Since then, it's been a regular occurrence." Their visitors are encouraged to rifle through the library books and hunt for quilts all over the house of the "quilter in residence." The Brown House is open by appointment, should you be vsiting England.

Celia has a great interest in all things Indian, which began in her youth. She was born in London shortly before WWII. When her father was sent to India in the Royal Signals Corp, her family moved to Cornwall for the duration. She followed in her father's legal footsteps, married young and gave birth to her daughter Vaseema, whose paternal side was from India. Celia was welcomed into their family and she developed a love of India's arts, history and culture as this is an important part of her daughter and granddaughter's heritage.

She has dedicated a part of QP to textiles from different regions in India. Her book includes the easily recognized Indian palampores and Indian chintz, and lesser known, but distinctive quilted and embroidered Indian styles, Kanthas and Sujunis. Large photos, which show details and quilting or embroidery stitching, accompany this cultural background of all the quilts in this book, Realizing now, I have seen these in antique shops and at swap meets and I passed them by. I couldn't place them or know if they were the real thing of cultural origins. (pages 40-51)

Celia studied Islamic arts and crafts through her contacts with the American quiltmaker, the late Margit Echols. Celia's enthusiasm to learn complex piecing techniques led her to replicate Moorish tile patterns in many of her patchworks. Of ralli quilts, she says that their patterns and colors "embody all the romance and exoticism of the East." Did you know that in the Indus region of Pakistan, where many rallies are made for dowries to this day, the word 'ralli' means to 'mix' or 'connect'. One of the ralli quilts pictured in QP looks like a bar quilt of flying geese, surrounded by a thin Sawtooth border and a wider border of a square-in-a-square on point. The similarity with American quilts is undeniable, but their pattern came from pottery made there in c. 2000 BC. The colors of the quilt and pottery are earth colors, buff, rusts and browns. (page 43)

What made this woman, who went through law school, then turned to teaching elementary and special needs students, who then became head of Department of large Comprehensive Schools, retire fifteen years ago (at 54) and turn her quilting hobby into her profession?
My impression following this interview is that Celia is driven by curiosity and seeks new adventures with an openness and intelligence that sets her on different courses as she moves through life. She loves to learn and then share this new knowledge with others. Her personality is warm and dynamic. She is a vibrant woman that defies her current age in every way. Her life, past and present, appears as colorful as her books and fabrics, and undoubtedly, the inside of the Brown House too.

Genesis and Scope of the Book

Jonathan Holstein's books, The Pieced Quilt and Abstract Design in American Quilts influenced her, she tells me, to look more deeply into the "American side of the story." She became keenly interested in understanding why America's quilting traditions developed as they did, and then she wanted to know the same about the UK's quilt history. "I was surprised to discover that there was no single book where I could get an overview of quilts world-wide, although it seemed clear that quilts and quilting techniques were present in many, many cultures. Von Gwinner's book, The History of the Patchwork Quilt, was the only book I could find which attempted any sort of broad picture, but it was far from comprehensive."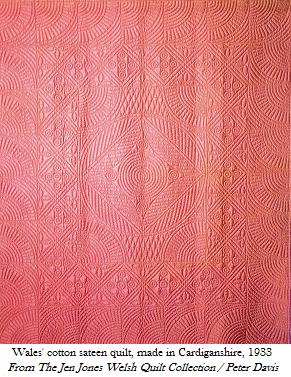 When asked how she chose which countries to include in her book, she said " I decided to make the book as broad in scope as possible, giving due prominence to the regions which have been influential and are well-known, UK and America, for example - but encompassing as many other, perhaps less familiar, areas as possible. I aimed to celebrate the ubiquity of the quilt as a cultural phenomenon and to indicate its importance and relevance to many different people in diverse geographical and social contexts."

It took a year of focused research and writing to get the book to the publishers. "I'd been collecting information and books about quilts of all nations for years – UK, Indian, Japanese, American, Australian quilts and others in which I had reasonable working knowledge. There were quite a few cultures and traditions about which I knew only vaguely – Hawaiian and Korean quilts, for example. Again, networking and working through the Internet pointed me to the people and books I needed. It was great to have the excuse to buy large numbers of books which I might otherwise have lusted after but resisted!"

She often expressed how helpful the internet was in making contacts, getting permissions, finding sources and viewing quilts, "I also met and talked to many interesting and knowledgeable people whom I might otherwise never have know." I couldn't help but think about the resulting globalization of the world for quilters since the internet and eBay came into our lives. The scope and timing of Quilted Planet seems to fit in like a "y' seam, for the 'dedicated quilter', as we are now called by marketing firms. The continuity of quilt traditions worldwide which Celia investigates is clearly demonstrated in this book, proving there really is nothing entirely new under the sun, just different shades of color.

To illustrate my point, I turn to a contemporary quilt, 2004, which could easily come out of the juried art quilt exhibits Visions or Quilt National. It is technically called a pojagi (Korean wrapping cloth) in Korea. Chunghie Lee used sheer fabrics in shades of reds to form a patchwork that reflected in the light shows moiré, wood grain, crosshatch and other designs shining through. Both diagonal and straight black threaded seams divide the many pieces unequally giving the illusion of stained glass window you can almost see through. In one 'window' only there is a flowering vine and leafy branch. Words can not adequately describe this artistic quilt. The other contemporary Korean quilt uses hand fabrics in shades of blue, cut into jigsaw puzzle pieces, two per unit, which are blended to form depth like looking into the opening of a cave on the side of a mountain or wall. Misik Kim named her 2002 quilt "the Wall' symbolizing the walls we have around us in life, both visible and invisible, for good or bad. "Walls are not just barriers - they can represent security and warmth too." What woman or man can't relate to this? (pages 38-39)

The publishers left the quilt choices and photos entirely up to Celia's discretion, while the layout and style were their decision. Of course the publisher's eyes were on salability, but Celia was happy with their choice of a large format and full-page illustrations, even if it pared down the text. On balance, she thinks it was the right decision, as so many readers have commented on the value of the large photos.

Using quilts she had seen in books, at exhibits or galleries, in museums and in personal collections, she and her "full-time picture researcher assistant, Emma, tracked down and negotiated for the loan of all the illustrations." On rare occasion, a quilt she requested "was not obtainable, in which case she and Emma would track down a suitable alternative."

Continue to page two . . .