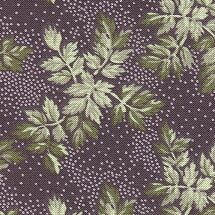 Review and comments are written by Kimberly Wulfert, PhD for www.antiquequiltdating.com, for educational purposes and to help quiltmakers use reproduction fabrics accurately when this is desired. The brochure provided by RJR was consulted for background information and dates of quilts used for this line.
RJR Fabrics has introduced a color coordinated, multi-group fabric line to quilters. There are three different, but complimentary, groupings of fabrics in their newest reproduction line. They have taken their inspiration from quilts in the collection of Michigan State University's Museum. The Museum has over 500 historic and contemporary quilts in their collection, dating from 1800 to 1999. It has developed primarily through donations, after their first acquisition of a dismantled museum's collection in 1952. It would appear likely that because donations comprise much of their collection, they have amassed groups of quilts collected and/or made by one person or family. The three groups in this fabric line are called: Great lakes, Great Quilts, the MSU Mill Engravings Collection, and the MSU Prairie Prints Collection.
Twelve of the Museum's quilts, ranging in age from the 1840s to the 1920s, were used to design this new line of reproductions. That is a wide range, and yet the pieces would mix beautifully together in one quilt, whether contemporary or traditional in nature. The first two groups are made in soft colors, ranging from neutrals and pastel pinks, yellows, lilacs with light grounds to muddy colors of olive, burgundy and purple. The Prairie Prints offer the deep/medium color range in indigos and reds, from lights to darks.
I am featuring the views and descriptions of the 1920s Prairie Prints to coincide with my feature article on Colonial Revival Quilts. They are a perfect example of fabrics available to quilters and garment makers in the first quarter of the 20th Century. This collection was drawn from the appliqué designs placed in the corners of a 1920 Star of Bethlehem quilt made by Native American Margaret David, who resided in Northern, MI.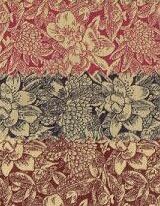 The Mill Engravings Collection is actually 12 colorways of one mill engraved dress print. A mill engraving is a printing method. The roller printer machine had giant metal rollers, at least 15" in diameter, in the late 18th and early 19th Centuries. It took a great deal of training and time for an engraver/artist to hand-engrave the fabric design motif into the metal drum. In fact, the engraver was likely to be the most highly-valued employee in a mill. The mill owner would import the finest engraver from Europe if he could afford to. Their design and fabric rendition could make a mill famous.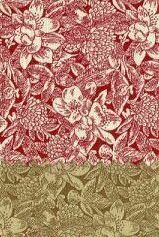 Around the 1840s, someone invented a faster way of engraving a roller, when the design was small and repeated over and over. A metal spike, if you will, had a large flat head. The engraver carved his motif on the head, and this was pounded or pressed repeatedly into the drum to form the overall pattern. So, it is relatively easy to tell a mill engraved print, due to its small rounded shape, with rich detail, and repetition across the fabric.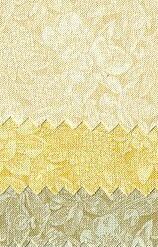 It would appear that two mill engraving tools were used to produce this print of camellias and hyacinth blooms. RJR offers us six pastels, five mediums to darks and one beige colorway, This document fabric was taken from a Brick Wall quilt made in 1876, by Maria Louise Lyon of Hillsdale, MI.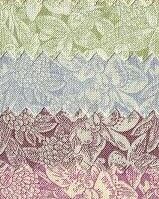 The main inspiration fabric, Summer Flowering, is found in the biggest collection, the Great Lakes, Great Quilts grouping. It is a late 1840s chintz, a polychrome floral called a demi-chintz in the 1800s, because it used five or fewer colors. This reproduction exemplifies the penciling (spelled penciling in England) process that was often used to make leaves because they are green. In the early years, the color green was made in two steps. Either the yellow colorant or blue indigo was applied with a brush, block, or (later) by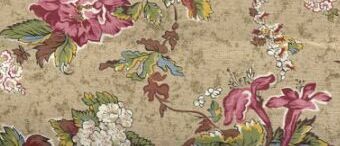 roller, and then the other dye was penciled (brushed) on top of it, producing a green. The pencilers were most often the women and children of the crew, and many were previously employed by a mill. They worked at long tables, side by side, hand-coloring all the green areas in a chintz print. It was not until green was synthesized in 1890 that it could be fast, and applied in one step.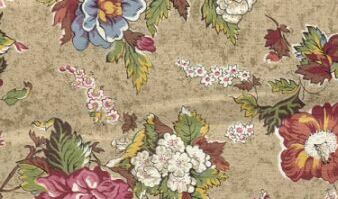 SUMMER FLOWERING: is beautiful reproduction chintz, made more realistic by the faux penciling generously scattered about on the leaves of all t he flowers. Another realistic feature is the white halo found around certain parts of a flower. This meant the registration was off when the piece went through another printing process to receive another color, whether the process is by block or roller. The color Prussian blue is nicely imitated. Overall, this piece of chintz looks old and mid-century, due to its smaller size motif.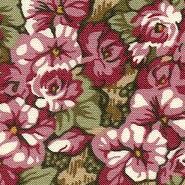 IMPATIENS: is dense floral from the same time period, in two colors, with white highlights and two-tone leaves. This floral print allows the white ground to come through from the background as a highlight and to add dimension. The flowers are smaller and chunky compared to the first chintz, indicating it could have been a woodblock print. It was reproduced from the border surrounding a bar quilt, circa 1850.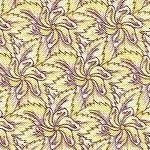 CLEMATIS: an earlier print in the group, from closer to 1840, is a two-color roller print, as indicated by its fine details and overall design.

PERSIAN SHAWL: Continuing chronologically up the time line, this print was taken from a quilt with fabrics made between 1850 and 1900.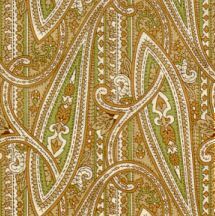 Paisleys were never really out of fashion; they just changed their length, width, and overall size, number of colors or ornateness. This paisley is long and narrow, with a medium amount of detail. I would place it in the upper end of that range, but it's hard to pinpoint paisleys, unless the original colors are helpful.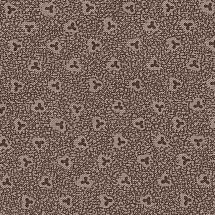 SINGLE BLOOM: is called a ditsy print. A print is called a ditsy when it depicts a flower that is not really a flower one can name. Usually it is cartoon-like, especially in the 1930s florals. This one is like a three-leaf clover on a tiny textured ground. It's a nice tone-on-tone. It was taken from a quilt made in 1860, when small, simple, two-color prints were being made quite a lot.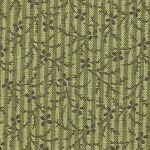 BRISTOL FAIRY: is definitely a roller print, originally. The background (produced in the first run through) is a narrow pinstripe. In the next run through is produced a sprig, a tiny flower head and leaves. This type of floral print alone was very popular throughout the 19th Century. The pinstripe behind it added more cost, formality, and uniqueness. It was found in an 1870 scrap quilt, and was likely produced near the start of the second quarter of the century on.

THISTLE & THORN: is a lovely print whose design was probably influenced by the Aesthetic movement in the last quarter of the 19th Century. The thistle plant was a symbol they often used, and they liked rounded shapes.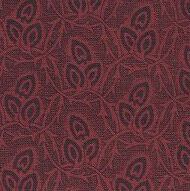 The American Arts and Crafts movement flowed from it, as the English would say. It would also look great in an Art Deco quilt on through to 1930. It was found in an 1880 quilt.
SPRING JASMINE: is a dress print, typical of the last quarter of the 19th Century, in that it is on a white ground, and the print has a tiny flower head on a thin scrolling vine with leaves. This print style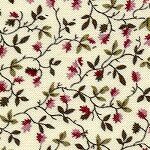 was usually just one color on white. This print would have been more expensive and time-consuming by using four colors, as this one has. It was taken from a quilt dated circa 1890.
TEXTURED LEAVES: This medium- to large-scale print u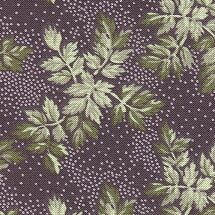 ses stippling to decorate the background and give the illusion of texture. This was commonly done in the 19th Century on all types of prints. Early stippling was produced
with a wood block that has the heads of straight pins sticking out from it. It was dipped into dye and onto the fabric. Later methods used rollers. This terrific print is from a quilt made around the turn of the century, as also indicated by the fewer number of stipples appearing then they would have had earlier in the century.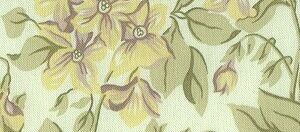 TRILLIUM FLOWER: is another medium- to larger-scale print. It is light and airy, and a beauty. This fabric depicts this flower with a rather realistic approach. I would sure like to run across this flower while walking in the woods. The original print fabric backed another Star of Bethlehem quilt, made in 1912 by a Native American woman. What we call the Star of Bethlehem was called Morning Star by the American Indians, and was one of their favorite patterns too.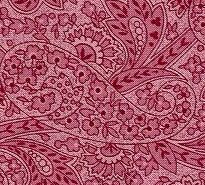 PAISLEY: is two different paisleys in one group, and they are very different. This one was taken from a 1900s fabric found in a quilt made by Mary Schafer in 1976. It is a tone-on-tone paisley, which is probably what gives it a contemporary feel.




I want to thank RJR for providing the set of samples and brochure for this review.

In December 2001, RJR and other sponsors announced their Quilt Challenge, using any of these fabric groups. The challenge was to cover at least 75% of a quilt that depicts the current maker's vision of one of the 12 quilts inspiring this line. Details and forms at the time could be found at: Quilter's Newsletter Magazine" The book "Great Quilts, Great Lakes: From the Michigan State University Museum," edited by Marsha MacDowell, is available from Amazon. It includes 12 quilt projects from the collection, a gallery of photos, and historical background information on quilts made by ethnic groups in their region.