There are three styles of prints I most readily associate with the 1880s Cocheco designs and three colors they used often. The three prints are the circle of pearls, border prints, and tightly packed, multi-colored, small motif prints. The last is significant because this was at a time when printing mills were moving toward more two color prints, like conversation prints and shirtings, with repeat geometrics or diaper prints on white grounds. The three colors are manganese, (now the synthetic form of the bronze-green seen in 1820s quilts), a navy blue ground with a color print, and chocolates, the print style describing a white or gray motif on a Hershey brown ground. Other printworks used a light blue color for the motif.

The newest Cocheco line of reproduction prints, taken from the swatch books housed at the American Textile History Museum, represent four of these. Read on to see which ones P&B chose to make. The reproductions pictured below date to 1883, except for the daisy print, which dates to 1889.This print is a two color, all-over design, with white reversed out on a solid dark ground.

Twenty-seven pieces, in seven prints make up the collection. Except for the blues, they are not easily grouped by color. Instead they cover a diversity of colorways which blend together well or stand alone. There are many different possibilities of combinations and it was fun to play around. Olive greens, manganese bronze, golds, salmon, yellow, blues, and blacks make this an earthy palette of deep colors rather than pastels. The Arts and Crafts movement was already underway in Europe and England, and these are the colors they put forward in their designs, as well as motifs taken from nature; water bubbles, leaves, acorns, daises, tiny flowers on vines and berries with leaves.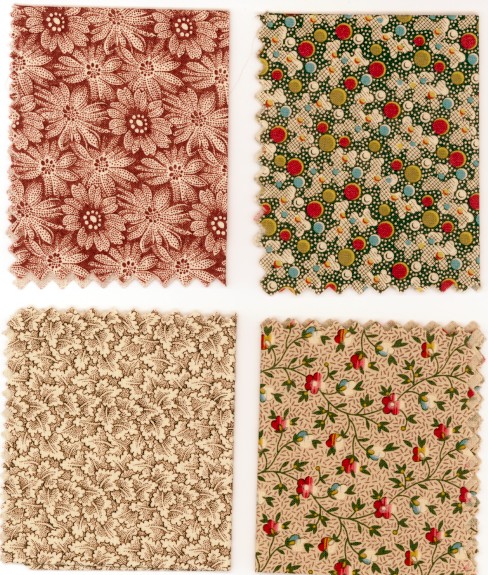 Document colors, clockwise, top left:
Daisy ATH2 887 R; ATH2 888 Z; ATH2 889 Z; ATH2 886 Z;
Below, left: ATH2 884 Z; ATH2 885 Z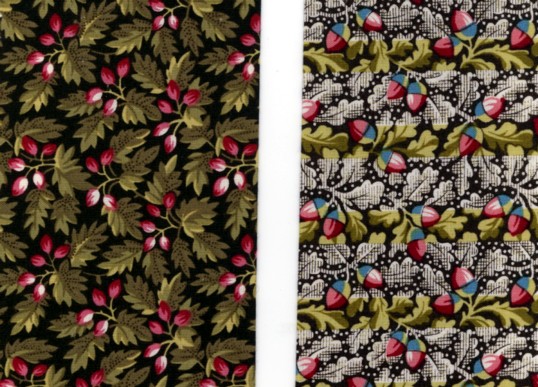 The border prints are larger scale florals forming the border and smaller buds form the opposite side of the print. You could cut one apart or use it as is and save the extra work. In the pattern "Cocheco's Song," Nancy Mahoney cut them apart to form two separate borders. P&B offers it free from their website, www.pbtex.com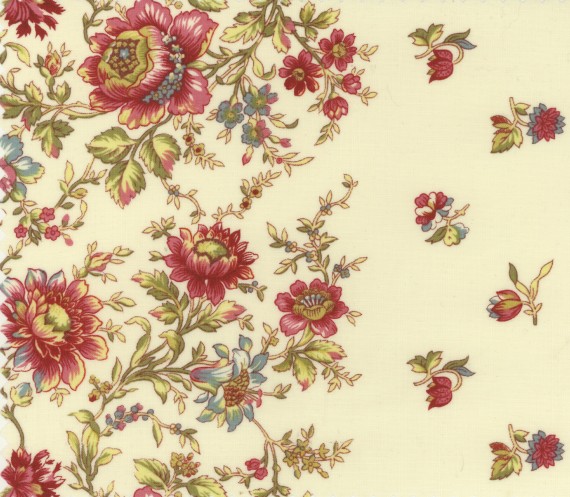 Document color, border print: ATH2 883 E
Diane L. Fagan Affleck wrote extensively about Cocheco Mill and the other Merrimack River Valley Mills in Lowell, Mass.. Much of her research came from the collection of swatch books, salesmen's swatch cards, and company records held at the ATHM. In her book "Just New From the Mills, Printed Cottons in America, Late Nineteenth and Early Twentieth Centuries" she describes their border prints which began in the mid-1870s and stayed popular through the early 1880s. Called side bands rather than border prints, the border was usually 3" wide. It could be used as the edge of a dress, or cut off and used anywhere. Affleck says this was the most common use.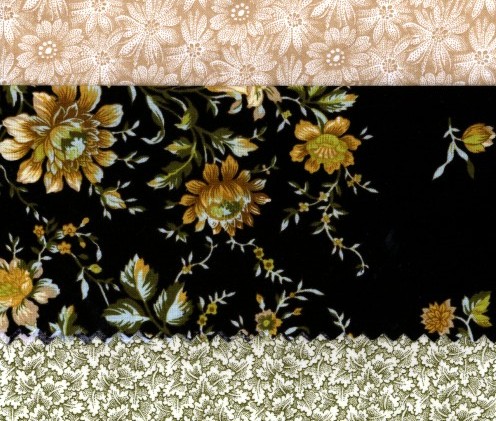 Black border print, with yellow and gold flowers

In the best form of this style, the field motifs complement the border motifs, and these repros do too. Cocheco's borders prints were produced in "dark styles and light styles, on standard print cloths and on sheer fabrics." Fagan writes by 1880 "...Cocheco made more bordered prints than any other novelty style. The company produced some of its most delicately drawn floral prints for bordered styles on lawn." (pg. 60)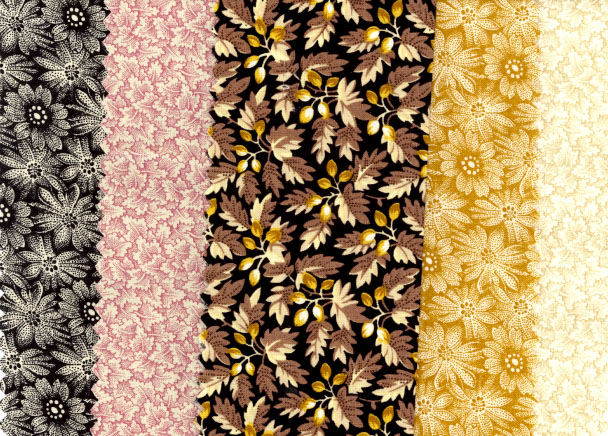 Center fabric: Salmon color on leaves
with touch of mustard on acorns, on black ground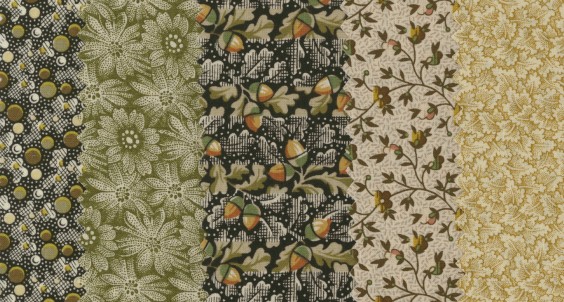 Manganese colorways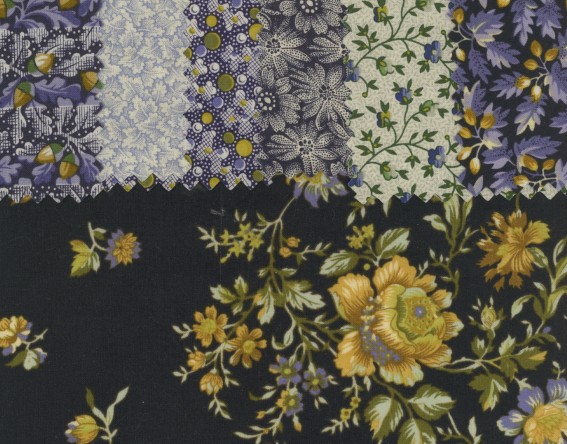 The blue colorways
Thank you P&B for supplying the fabric and Document colorways information.

For more on the Cocheco Mills, see my article: Cocheco Mills: the History and Fabrics.