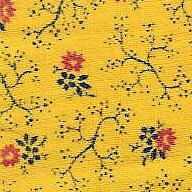 Dear Kimberly,

Several years ago I was able to purchase yardage of some antique fabric. I have begun cataloging the collection and would like to know more about how to verify the age of these pieces. I have used Barbara Brackman's book "Clues In The Calico" and Eileen Trestain's book "Dating Fabrics," but I am still unsure about several of the pieces.

From my research thus far I know that the earliest pieces in my collection are the poison green, cheddar orange, turkey red, and the bright yellows. I also have several indigos, double pinks, maroon and mourning prints which came a little later. Where I was able to purchase yardage, there was a label from American Prints Co. on it.

I would truly appreciate any information you could give me to steer me in verifying the age and value of the pieces. Thank you for any help you may be able to give me.
Sincerely,
Doris Goins
Indiana

---

Hi Doris,
When you have individual pieces of fabric, the Brackman and Trestain books you mentioned are good for getting a date range. In another book you might find the same piece of fabric that is in a dated quilt and that would indicate some sense of time too, but ladies had deep scrap bags back then. Also, the fabrics you mention were made for a long period of time, so it may not be possible to get exact. Salesman's sample cards would be another good source and can be found as pictures in books sometimes, check out Roderick Kiracofe's "The American Quilt".
In general the acid greens, natural turkey red, chrome yellows and antimony orange were around from about 1825 to 1890 in America. Chrome or antimony orange solids continued on into the 20th century. The same chrome yellow and red & black prints re-appeared in the teens and again in the 1940s. The maroon, a synthetic dye called claret by Brackman was made between 1890-1910, as were Mourning prints of grays and blacks. Indigo and double pinks were so popular they span the century and continue into the next. The print and method of printing help to date these a little more, but it is not always easy.
Value with swatches and pieces of fabrics you describe are based on what the buying public will bear. They are not rare, nor were they expensive to make at the time they were made. But they are special and wonderful and definitely worth the care and preservation you are giving them.
Thank you for letting me use your question and prints on my Website, for other readers to enjoy.
Kim


---