Quilt History
Today's Quilt Historians
Underground Railroad
Women at Work
---
New Pathways into Quilt History written by Kimberly Wulfert, www.antiquequiltdating.com

Antique Sewing & Needlework Tools
- Collecting Bone, pg 2
Text and Photos by Gloria Brunning, Needleworker
A close up of one of the pieces.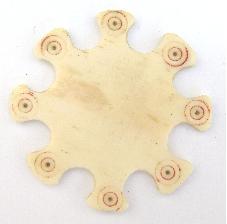 Other ways to store thread included a cotton barrel. The barrel had a spindle inside and the thread was wound around this and the thread was then drawn through a hole in the barrel. Reel holders came next. These were easier to produce so they were cheaper. Wooden reels took over the market in approximately the 1820s-30s then these were replaced by plastic in 1966.

Cotton Barrel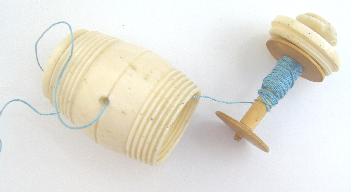 Cotton Reels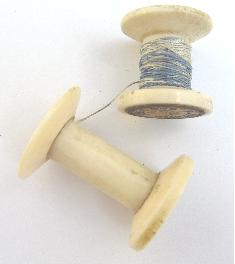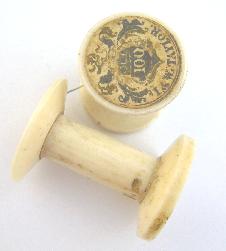 This is a cotton reel for three different threads and the end screws off to reveal a compartment for needles, combining the needle case with a cotton reel.

The following picture shows a netting needle and a bone bodkin.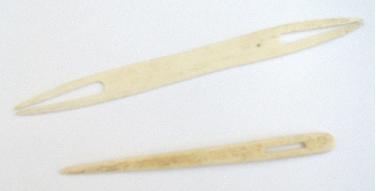 This is a ribbon threader.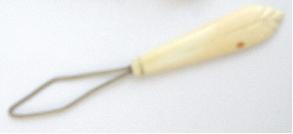 Antique Sewing & Needlework Tools - Collecting Bone, page 3
Article text and pictures Copyright © 2007 by Gloria Brunning. All rights reserved.
* Women (and Men) at Work

© 2007 - 2015 Kimberly Wulfert, PhD. Absolutely no copies, reprints, use of photos or text are permitted for commercial or online use. One personal copy for study purposes is permitted.
Fabrics & Dyes
Rugs & Textiles
Books & Reviews
Resource Links
Home
---
Visit my
online shop ...
for quilt history lovers!
* Gifts & Jewelry,
* Books & Stationery,
* Archival Supplies,
* DVDs,
* Quiltmaker Supplies.