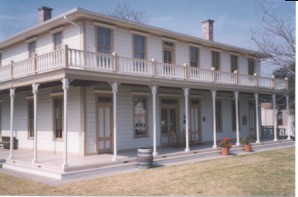 For your enjoyment and to illustrate quilts that were popular in the 1920s and 30s, what follows are pictures from an exhibit I curated in 2002 for the Conjeo Valley Historical Society's Museum, the Stagecoach Inn. James Hammell built a luxury Inn for travelers going from Los Angeles to Santa Barbara. He named it the Grand Union Hotel, which cost him about $7,200 in 1876. Today it takes about 2 hours to travel that distance. It passed through many hands and took on a wide variety of purposes until becoming a museum in the 1960s. Unfortunately, a fire in 1970 destroyed the original building made of redwood lumber from Northern California. This one was built to replicate it on the original sites and was dedicated and opened on July 4, 1976.

Medallion quilts were not the only style made in the 1920s and 1930s. Block styles, pieced and appliquéd, embroidery, and foundation quilts, such as the pickle dish, were in this exhibit. Many were made from patterns featured in newspapers and magazines. Starting in the teens and growing from the 1920s to the 1940s, newspapers and magazines across the country printed quilt and block patterns, pieced or appliquéd. Some included directions for the entire quilt, others only for the block, and some just had a picture of a block. This was more common in needlecraft magazines. Some may have been sold as kits. Women ordered patterns and kits through the mail, similar to our popular block-of-the-month programs today.

The Colonial Revival brought back a desire to make quilts, not the necessity. Women had less time to spend on needlecrafts now, making kits and patterns ever more popular with the masses. Kit quilts were made throughout most of the 20th century, and are gaining popularity once again in the 21st century. The kits sold today usually comprise the pattern, instructions and fat quarters or half yards, rather than pre-cut or pre-marked fabric, since most quilters use rotary cutting techniques.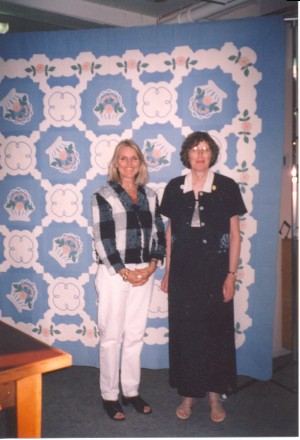 In the picture to the left, I am standing with Rosalind Webster Perry (right). Rosalind is the granddaughter of Marie Webster. We are standing near Rosalind's quilt named French Baskets. Although the maker of this quilt is unknown, it is a pattern her grandmother designed around 1914, with daisies rather than roses in the baskets. This version was published in Ladies Home Journal in 1918 and became one of her most popular designs. Many pattern companies copied it in the 1920s and 1930s, selling it under different names such as Garden Baskets or Ivory Basket. Rosalind estimates this quilt was made in the 1930s, possibly from a kit. It is done all by hand, with the baskets in reverse appliqué. It is made of cotton and measures 86" x 96."





---

Marie Webster had a major hand in the revitalization of the quilting movement, and she was one of the first woman in America to build a cottage industry from her quilting. Marie was a quiltmaker, then a designer, and finally an entrepreneur in quilt patterns and kit making. She authored the first book dedicated to the history of quilts, "Quilts: Their Story and How to Make Them," in 1915.

Rosalind, with Marti Frolli, has written two books about her grandmother's story, which include wonderful pictures of the original quilts featured in the Ladies Home Journal, the history of the designs, and patterns for today's quiltmaker:
"A Joy Forever: Marie Webster's Quilt Patterns" and "Marie Webster's Garden of Quilts."
---
After Rosalind spoke to us about her grandmother's life, we had a book signing. It was a perfect setting. We were surrounded by quilts made from Marie's patterns. Marie's original quilts are in different collections, private and at the Indianapolis Museum of Art. Some will be at The Quilter's Hall of Fame, now located in Marie's former homestead in Marion, Indiana. Rosalind lives with her husband in Southern California, just a short drive north of my home. They both write books on a variety of subjects and own a small publishing company. Like Grandma like granddaughter!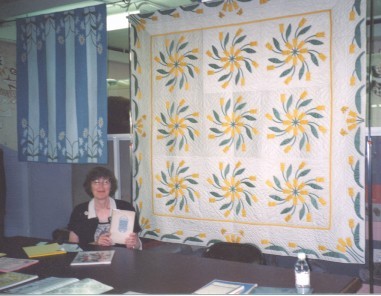 The child's quilt hanging on the left in the photo is named Daisy. This Marie Webster design was first published in the Ladies' Home Journal in 1912, with this poem :


"Teach the little one to tell the petals of the daisy- 'loves me, loves me not'- and many happy moments will be spent in finding out whether the child or his mother loves the more."


Daisy was hand appliquéd and quilted by Santa Barbara quiltmaker, Zetta Hanna, in 1991, using Webster's original pattern and color choices. It is 50" x 60." The quilt on the right in the photo is named Wind Blow Tulips and is one of Marie's first designs, published in the Ladies' Home Journal in 1911. Stearns & Foster printed a similar pattern on their Mountain Mist batting wrappers in the 1930s.
---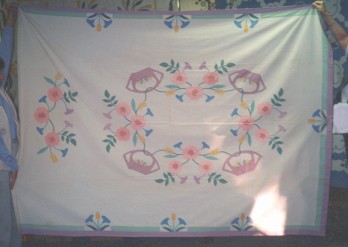 This quilt was purchased in 1988 in Indiana, but nothing of its history is known. The maker is unknown. She made it with cotton sateens, and beautiful appliqué and quilting patterns. It measures 80" x 80."

We were thrilled when Rosalind brought one of the rare quilts actually made by Marie. It is a summer spread called Dutch Baskets. It is unquilted and made of one layer of muslin. Marie made a pair of these in the 1920s. She also made a kit of this design, which included all the fabric needed. It was available for $8.50 as a spread and $10.00 as a quilt.
---
BUTTERFLY MEDALLION ca 1920
Cotton, hand appliquéd and quilted, embellished with embroidery stitches and rickrack. Owned by Beverly Viola, Westlake Village, CA.




In the 1920s and 1930s, it was not unusual to use buttonhole, chain and stem stitching, French knots, and other embroidery stitches. The butterflies on this quilt are embellished with a thicker-than-usual thread, which is likely a pearl cotton. The edges are held down with white rickrack and yellow French knots at the top of the curved points. Rickrack was used in aprons and table linens but seldom seen on quilts. Placing the motifs in the center, surrounded by lots of quilting, including the feathered garlands, make this a medallion-style quilt within the Colonial Revival quilt styles.



---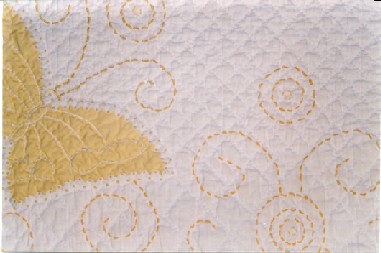 Beverly Viola loaned the exhibit another medallion quilt, GRAPE VINE MEDALLION, ca 1925, which she believes probably originated in Colorado Springs. It is made of cotton, hand appliquéd and quilted.



---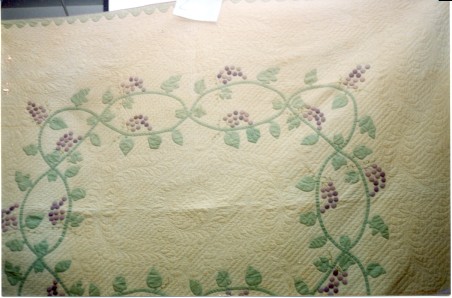 The quilting is the most eye-catching feature of this quilt, in spite of the grape and leaf vine. It is outstanding, as the feathers curve around, starting in the center as a wreath and forming frames inside and outside the vines. Four leaves form a flower around the inner medallion, and diagonal lines fill all the remaining space. The areas that are raised have been stuffed with batting from behind to create more depth. Stuffed work, or trapunto, is a very early technique that began in Europe.

This quilt does not appear to be a kit, but it may be from a pattern. The scallop edge of green (seen at top left edge) is a 20th century adaptation of the 19th century sawtooth border.
---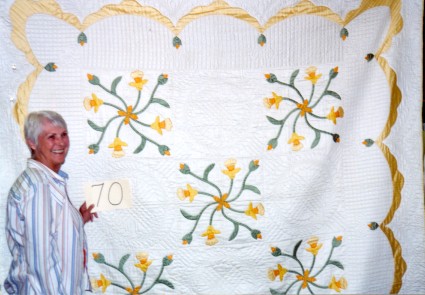 Julia Beedon, from Moorpark, CA, is standing beside her family's quilt, DANCING DAFFODILS VARIATION, ca 1930. Julia Sarah Eslinger (1864-1957) made this quilt in Wilson, Kansas. Julia Sarah Sellers was born and raised in Pennsylvania. She married George Eslinger on September 25, 1888, and they homesteaded a farm in Kansas where they raised three children. The farm has remained in the family ever since. The quilt came to CA in 1987. It is made in cotton sateen, hand and machine pieced, hand appliquéd and quilted.
---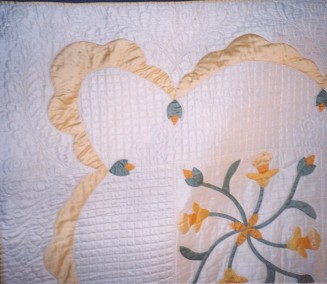 This appliquéd swirl of daffodils and buds is similar to a design by Marie Webster called the Wind Blown Tulips, which was pictured in Ladies Home Journal in January 1911. Stearns and Foster (S&F) adapted it to make their daffodil quilt sell as a 'Mountain Mist' pattern. S&F placed their colorful quilt patterns on their batting wrappers, beginning in 1929.

Marie Webster designed a daffodil quilt in the late 1920s called Rainbow. It included a geometric border inspired by the Art Deco period, whereas this border of soft boughs is a 20th century stylized version of mid -9th century appliquéd borders.
---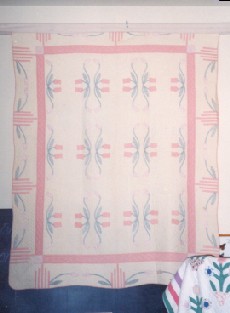 Julia Eslinger made this stylish, Art Nouveau/Deco transition quilt earlier, ca1925, with help from the Presbyterian Church quilters in Kansas. Which parts each did is unknown.

The graceful curves of the tulip stems and long shapely leaves are the Art Nouveau aspect, which is juxtaposed by the straight, then angular rectangles, a motif seen time and again in the chrome and metals of the Art Deco period. Perhaps this tulip pattern appealed to her Pennsylvania roots.




---
Embellishment with embroidery was commonly seen on quilts, thanks to the many different patterns being printed in newspapers across the US. Rosemary Kent, from Valley Village, CA, loaned the exhibit one of the more unusual embroidered quilts one might have seen in the 1920s.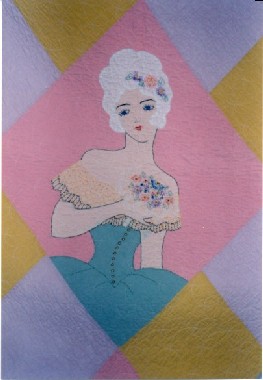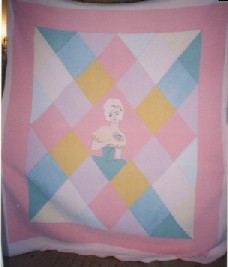 The FOXY LADY was more likely to be seen on a hand towel than a quilt. Rosemary received this quilt from her mother-in-law, Helen Kent, who grew up in Kansas City, KS. Although not a quiltmaker herself, she appreciated them and probably bought it while living there.
This Foxy Lady is set in the center of a Harlequin background, which is further defined by the selection of solid colored diamonds. The "inner border" is set in pinks and gold, with the other corners in blues and whites. There are two wide borders, one is pink and the other is white. It is machine pieced and machine quilted, which is unusual for that day. The appliqué and embroidery is done by hand, and it is all in cotton.
---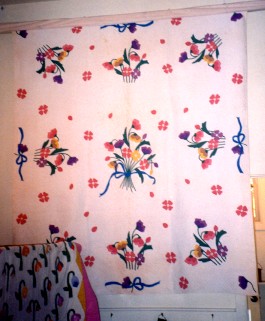 Rosemary is the great-great-granddaughter of quilter Fannie Edwards (9/2/1861 to 4/4/1941) who appliquéd this quilt top, MEADOW ROSE BOUQUET in the 1930s, with her granddaughter, Margaret Ann Edwards (Olds). Margaret was born September 9, 1917, while they lived in Indiana. A church group in Pomona, CA, quilted it at Margaret's request, around 1970.

Bouquets tied with a single looped bow are an unusual design element. Colonial bouquets would have been placed in a basket or urn, and bows usually had two loops, sometimes three petals. Primroses sprinkled about are also an unusual creative touch. They fill empty space without distracting from the main blocks. The very thin 1/8" binding is reminiscent of colonial quilts, but this binding is applied in part by machine.
---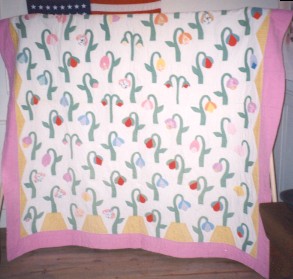 Susan Fox, from Westlake Village, CA, purchased CORAL BELLS, ca 1930s. It is hand pieced, appliquéd and quilted, in cottons.

Notice the unusual border treatment on this quilt. The top and bottom are one design, the sides another. On the bottom row, the shape serves as a bold vase for the stemmed flower. The flower is typical of the appliqué patterns found in magazines and newspapers during the 1920s and 1930s. Often, a different flower would be put in a series of patterns, printed over time in these periodicals. There are two different patterns seen in this one. There is not much quilting, as the flowers were the emphasis for this quilt maker. She was carefree in placing which way the flowers face, adding a whimsical quality to this quilt.

New Pathways into Quilt History written by Kimberly Wulfert, Copyright 2004 Kimberly Wulfert, PhD, with permission to use the photographs from the quilt owners and museum. All rights reserved.
Continue to page two . . .