1) How do you prefer to be described as, within the field of textile history?
If you have a business, please tell us about that.

"Museum Licensed Pattern Writer."

2) When and where did you begin your serious interest in the history of quilts, textiles or garments?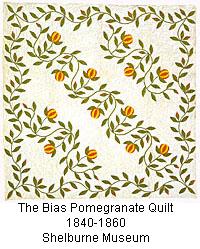 "After seeing all the spectacular quilts at the Shelburne Museum, I approached them in 1996 about 'patterning' their antique quilts, so they could be shared with more people. This experience led to writing the patterns for Enduring Grace, which, in turn, has led to many exciting opportunities."

3) What "known" individual or group influenced you most and why?
"Celia Oliver, former textile curator at the Shelburne Museum, was influential in my wanting to further pursue the study of antique quilts. She freely shared her tremendous knowledge, enthusiasm and love for the textiles with me. It was contagious!
"Richard Cleveland, former Director of the Vermont Quilt Festival, has also been a tremendous help and resource. His extensive knowledge of antique quilts, imparted with a Vermont dry sense of humor, has made learning about the quilts a pure pleasure. He's been generous with his time and his wisdom and has helped me make some valuable contacts."

4) Who became your personal mentor as you began your learning?

"I do not have a specific mentor I've depended upon. Much of the information I've gleaned has been through studying and learning from the huge resource of quilt historians at my disposal. They range from quilt curators to authors to internet historians, like Kimberly Wulfert, who are thrilled and anxious to share their knowledge!"

5) What aspect of study were you most passionate about at first? How has this changed over time and why?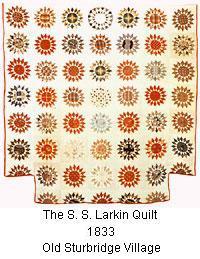 "In the beginning, I was passionate about providing instructions for the antique quilts that were as true to the original as possible. I was insistent about including the hand instructions along with the machine instructions as too many patterns ignore the hand piecer. This is still important to me and has not changed over time. If anything, I've improved the patterns by including color pages of the actual fabrics and more detailed cutting techniques for all quilting styles.

"I've also wanted to provide patterns that document the quilts and offer the quilter glimpses into the history and, sometimes, the 'story' of the quilt. I want to be your eyes to quilts you may never see in person. These desires have not changed over time and give me the incentive to make each pattern better than the previous one!"

6) What is your current "pet project"?

"I have so many irons in the fire right now, I don't know which one to pursue first! I would have to say that my 'pet project' is always writing patterns. From the initial research to deciding how to make the pattern special to the planning of the packaging, my perfectionism becomes a burden! I want the quilter to become engrossed in the quilt - the history and the details of it - not just construct it!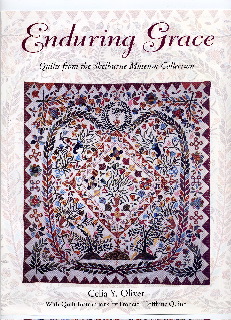 "Another project that has me very excited is the reprint of Enduring Grace, Quilts from the Shelburne Museum Collection. It's a celebration of a half-century of collecting one of the largest, broadest and most diverse quilt collections in the country. It is filled with full-color photographs and instructions that I wrote for five of the quilts (Sarah Johnson, Calico Garden, Silk Tie, Pincushion, Sunflower) from the collection. The author, Celia Oliver, presents an intriguing history of quilts in the American home as well as the fascinating story of the founder of the Shelburne Museum, Electra Havemeyer Webb. Available March 15, 2004.

"These same patterns are also offered on my website, independently of the book. They are more comprehensive and include quilting stencils or freezer paper templates, depending on the pattern. Acrylic templates are also available for several of the quilts.

7) What aspect of your research or contribution to textile studies has satisfied you the most?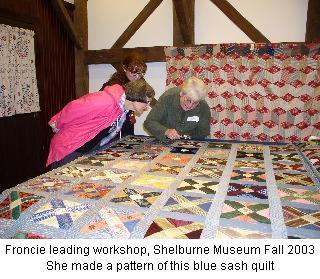 "I receive so many emails from people who just thank me for what I'm doing. Nothing satisfies me more. One woman wrote -- I have very little time to quilt and knit, but the time I spend, I want to be quality time, rather than quantity, 'get-it-done-fast.' I want to be creating the same way my great-grandmother, and her great-grandmother did. In these days of quicky methods, and 'quilt-in-a-day' patterns, yours are a breath of fresh air!! I SO appreciate your effort to duplicate patterns of the phenomenal quilts of the past, so that we can try to connect with our "fore-mothers", and create works of art ourselves.

"I'm not a well-known quilt historian or even hold a degree in textiles or history, I just have a desire to share my incredible fortune of working with antique quilts, so that quilters can immerse themselves, as I do, in these spectacular and fascinating creations. I feel that is my contribution - just the exposure."
8) Within the textile arena, what would you like to do, but haven't done yet?

"Actually, I have been invited to create a fabric line of reproduction fabrics. I would like to draw on my own collection of antique fabrics to create a line that is truly conducive for recreating the beautiful 19th century quilts."

9) Any further comments are invited.

"I'm so fortunate to have the opportunity to work with such old and precious quilts. I'm even more blessed to have made so many fine friends through this endeavor. That is truly the beauty of this work. I have 'friends' all over the world - most of whom I'll never personally meet, but whom through the love of quilting, have created a bond that transcends race, religion, environment and age. Oh what the world leaders could accomplish if they were only all quilters!!

"Please describe (in a list) the contributions you have made via books, exhibits, presentations, contests, articles, fabric lines, research papers and the like."

CONTRIBUTIONS

Licensed pattern writer for the Shelburne Museum, Shelburne, Vermont, Old Sturbridge Village, Sturbridge, MA, The VT Quilt Festival, Northfield, VT

Pattern designer for Enduring Grace, Quilts from the Shelburne Museum Collection

Member of a juried guild, The Vermont Hand Crafters, Inc.

Have won ribbons in New York and Vermont quilt shows

A published review of HOOPLA's miniature Poinsettia pattern appears in Issue #4 of "Miniature Quilts Magazine"

Issue #10 of "Miniature Quilts Magazine" published "Small Quilts Mean Business," an article about HOOPLA's miniature designs

Just Spoolin' Around pattern published in Issue #20 of "Miniature Quilts Magazine"

Exploding Stars pattern published in Issue #22 of "Miniature Quilts Magazine"

"Lady's Circle Patchwork Quilts," Issue #122 published "Discovering an Heirloom," a feature article about HOOPLA's reproduction museum patterns from the Shelburne Museum

"Quilting is Hot!" published a feature article, "Quilts Admired from Yesterday, Made Today, Treasured Tomorrow," in Volume 1, Issue 2

The Appliqué Society published a review of the Calico Garden pattern in Volume 4, Number 3

Wrote an article, "Reliving History Through Quilting" for website, www.historyofquilts.com/museumrepros.html. This can also be read from my website under WHAT'S NEW!

Invited to tape a segment on HGTV's Simply Quilts with Alex Anderson. (Show #922)
Froncie - your interview has put a big smile on my heart. Why? It's due to the love you show for antique quilts, and the mystique and personality you discover in them to share with today's antique quilt reproducers. Your interview put this relationship you form with quilts, eloquently into words. I think you spoke for many who adore the older quilts. You are a quilt's best friend. They must be as happy to see and share with you as you are with them, not to mention the museums that let you into their inner circle. Thank you for bringing these beauties to us in 3-D through your patterns.
We look forward to your fabric line, too. If I may put in a request, please consider reproducing the fabric Florence Peto so beautifully fussy cut in her "Calico Garden" quilt, one of your earliest patterns. Best of luck to you in future quilt rendezvous!