Quilt History
Today's Quilt Historians
Underground Railroad
Women at Work
---
Kids can make quilts! I have been sewing, crafting, and quilting for 30 years and 3 years ago I decided to teach kids to sew. I love to sew and I love working with children so I decided to put the two together and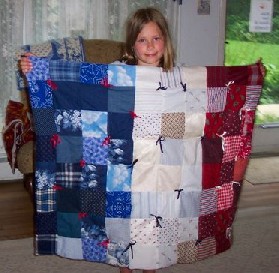 open up my own sewing school. With in 2 years I was up to 85 students.

In my school I decided to add a simple quilt of squares sewn together and quilted by yarn knots to my list of projects. The kids were hesitant at first to attempt such a big project, but the students have blossomed with their quilt interest. They now make patch work and appliqué quilts also. They proudly present their quilts in shows and competitions. Sewing and quilting helps one gain confidence in oneself as well as learn the value of completing a project. Let's join together to help preserve the skill of sewing and quilting in our culture.

Maddie did an American History project on representing Betsy Ross. In addition to the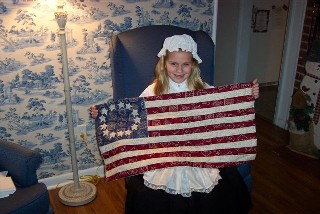 studying about her, Maddie wanted to present a flag she made. She used red, white, and blue fabric with "crackles" in them to give the appearance of "old" fabric. She appliquéd the stars on by simple zigzag stitching and top stitched around the red and white strips. She will be entering this is a quilt show in Sept 2004. We also made her "cap" with no pattern or directions, that was challenging.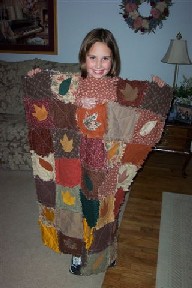 Katherine made a beautiful "rag and appliqué" fall quilt. For a rag quilt you actually "quilt" your squares first. Then you sew them together, clip all the seams and wash your quilt. The washer and dryer "rags" it. Then she drew different leaves, traced them, and appliquéd them on her quilt. She took 2nd place in a recent quilt competition.

Contact Judi at: lovetosew.com@comcast.net

© 2005 - 2016 Kimberly Wulfert, PhD. Absolutely no copies, reprints, use of photos or text are permitted for commercial or online use. One personal copy for study purposes is permitted.
Fabrics & Dyes
Rugs & Textiles
Books & Reviews
Resource Links
Home
---
Visit my
online shop ...
for quilt history lovers!
* Gifts & Jewelry,
* Books & Stationery,
* Archival Supplies,
* DVDs,
* Quiltmaker Supplies.