Click on Thumbnail views to see actual size.
Reminiscence is an American fabric collection that looks English or French, which was chosen by a Japanese designer company. It seems Yuwa Designs in Japan turned to French pattern books in their own archive of antique fabric to pick these textile patterns for FreeSpirit in NYC. Everyone loves French designs, including the early English printers. Yuwa's French swatch books are mostly from the Alsace region, which includes Mulhouse print works, and they are from Lyon, the capitol of silk fabrics in France. As an aside, of interest to fabric collectors, Lyon and the Rhone Valley also produced Turkey red fabrics, called Rouge Adrianople, which were an orangeish-red. This dye had been imported from Turkey through France's free port in Marseilles. Decades later, in 1776, the secret Turkey red recipe was pirated by dyers in Lyon and added to the list of many colors of high quality dyes for cotton produced there.
My impression after viewing this diverse collection is that both cotton prints and silks in Yuwa's archives were used as sources for these adaptations. An Adaptation, as defined in the furnishing fabric industry, is a fabric type and/or colorway that differs from the original or document print. The textile furnishing industry was the first to use antique print fabrics as documents for adaptations for their contemporary customers. One could easily argue this practice has been going on for centuries, and it has, but fabric made for quilters is a 20th century business, and reproduction fabric with us in mind didn't begin until very late in the century.
This line presents a rich paisley, florals with pinstripe grounds and musical instruments, a floral mignonette, and a children-at-play multi-colored toile, among others. These fabrics could be used in a wide range of periods, in the last half of the 19th century and first half of the 20th century, depending on the colors.
First is a stripe that shines English Victorian fabric to my sensibilities. I love it! I see it made into a dress back then, were it a smaller scale, but it's a perfect scale for quilts, a wider than usual stripe. I think all the floral fabrics have an English style of print to them. The English loved their silks, as did the French, and their designs and patterns were passed back and forth over time.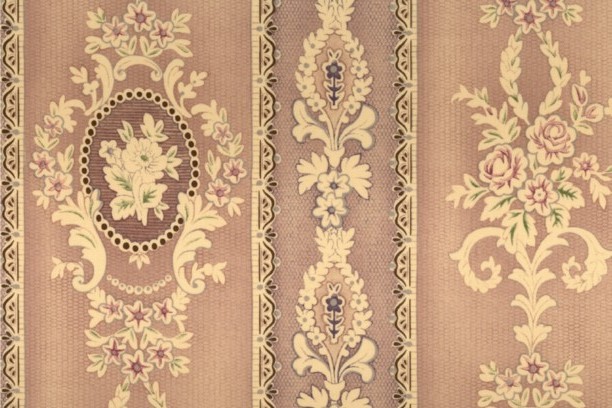 50% view
Doesn't this look Victorian to you? The large swatch is a lilac color in the two thinner strips and a similar but lighter mauve in the wider strips. It's subtle. It looks old, not new, because of the way the print appears to be just barely there in some areas due to decades of use. I find this version of old quite unique to the world of reproduction fabrics. A tiny flattened lozenge shape gives the background density, 'fading" here and there for the illusion of use. Nor do the motifs have solid or dark outlines, so they blend into the ground, fading here and there. The smaller swatches are gold and a pink leaning toward rose. I can see it used as a border or an alternate plain block in a quilt. It would be beautiful cut into vertical strips for sashings of various widths.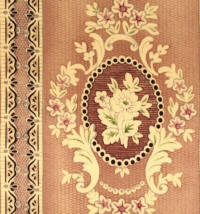 Thumbnail view - click to enlarge.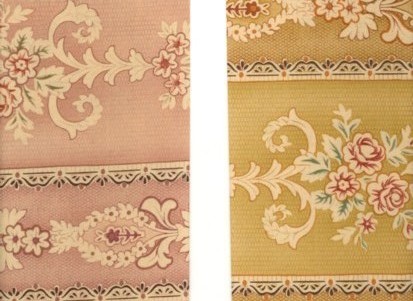 ---
Another print in the line, which could have been seen in an English or French decor, is a large scale floral with a clinging vine flowing along on a plain ground, catching a variety of flowers. The largest flowers are roses. The color combinations are soft. The flowers and leaves are highly shaded and dimensional. In the large view, the background color is a light cocoa, and blue and rose are the alternate colors. (FreeSpirit uses number codes to identify their fabrics, which you can find on their website www.freespiritfabric.com)



Thumbnail view - click to enlarge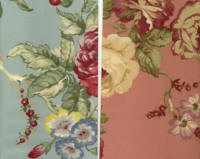 Thumbnail view -click to enlarge.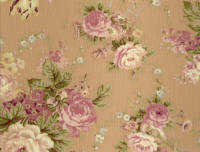 A medium-large floral print is romantic and nostalgic in its rendition of a musical theme often seen in early French toiles. The colors are soft and warm -- latte, mellow yellow, and sage green backgrounds. This fabric would look perfect in a quilt on your daughter's bed or on your bed!


Thumbnail view - click to enlarge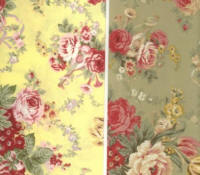 Versatile and feminine, this print is. The yellow with red flowers is most French and was probably closest to the document colors.
Thumbnail view - click to enlarge.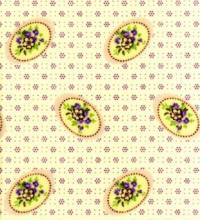 The mauve mignonette print, a tiny French print motif that repeats in an orderly fashion, would be the perfect companion to the latte colored musical toile. In bright yellow, the effect is a stand-alone print, very French; they love strong golds and yellows. It is not the version that becomes an invisible background! The other colorway has a white ground and pink motifs. This version could be used in your quilt, just as shirtings are, if you would like your quilt to have a French flair with a feminine attitude.

Thumbnail view - click to enlarge.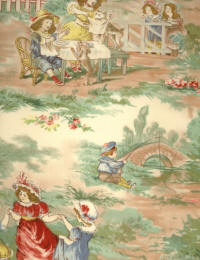 Thumbnail view - click to enlarge.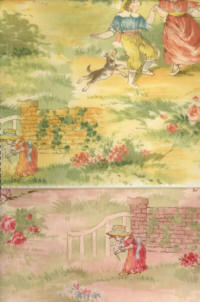 Originally, French toiles depicted historical events or recorded life as it was then, which is what this children-at-play polychrome toile is about. Unlike monochrome toiles, it has the flavor of a watercolor painting. It records pictures of children and animals playing outside on a summer day. The little children wear late-Victorian era clothing, and the houses depicted look European. There are quite a few scenes depicted, of average size. They could be fussy cut for alternate blocks or be used for the middle of a pieced block, or used as a border or backing fabric.

Thumbnail view - click to enlarge.
---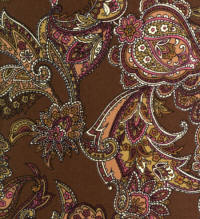 At the other end of the fabric spectrum are a paisley and a pinstripe floral that are sophisticated and designed with adults in mind. The paisley would work beautifully in a quilt for a man or a couple. The background colors are deep and manly, in a brown, burgundy or green The paisley print is not the typical teardrop shape; swag and pinecone shapes, with lots of details in each of the shapes, give this print a rich expensive appearance. Whether the original print was a woven silk or engraved roller printed cotton, it would have been an expensive one to produce. Much later, a dense pattern of this scale and coloring would be used on the backs of quilts at the end of the 19th century. Often this type of fabric print was made in a twill weave, rather than plain. In either case, these prints were called cretonnes.

Thumbnail view - click to enlarge.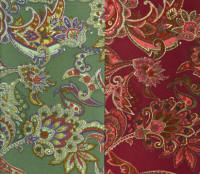 Thumbnail view - click to enlarge.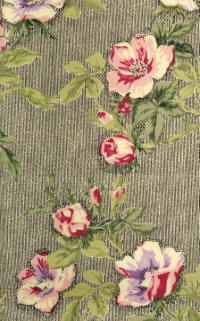 This print, with black pinstripes and lilac and pink flowers, says 1940s high-style furnishing print to me. (put photo here) In the other pinstripe colors of pink and tan, it is so toned down I could see it used before then, even late 19th century. The tan and pink blend seamlessly with the other florals, but the black stripes stand out and make a style statement. It could easily be a focus fabric for a 20th century quilt, or a border. It is feminine and classy, not for little girls or babies. (put alternate colors here)
Thumbnail view - click to enlarge.
---
The smallest and most dense of the prints in Reminiscence is this one. It has a lot of dimension for such a tiny print. The blue print is shades of blue on white and would read light blue from a distance. The other two are multi-colored, green/yellow/red and pink, purple, green. They appear more dimensional and would affect the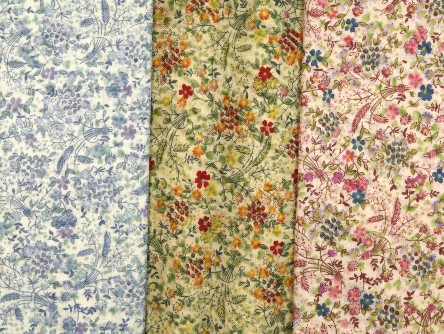 overall quilt quite a bit. Used judiciously or as a primary fabric, they lend themselves well to this line of mostly large prints. It looks to me like a roller print to begin with, where a more worn out engraved metal roller is re-engraved with new motifs, placed in-between the first motifs, which would print more faint than the newly-engraved ones.
actual view
Reminiscence is reminiscent of the post-Civil War period all the way to the 1940s. Making these adaptations into quilts, pillows, and home décor items will provide comfort and beauty to children, women and men. Perhaps this reflects the Japanese mentality, one that is family-oriented and practical. Thank you Yuwa Design and FreeSpirit for bringing this collection to quilters today.
FreeSpirit offers free quilt patterns (hyperlink quilt patterns to their website) for their fabric collections. Thank you Donna Wilder, for supplying the fabric and some background information for this review.