1) How do you prefer to be described within the field of textile history?
If you have a business, please tell us about that.

"I prefer to be described as an independent quilt researcher of 20th Century quilts and patterns. I am also a quilt maker and a quilt collector.

"I have a subscription website which gives access to my documentation of over 3,000 20th Century quilt kits and the companies and designers that produced them."

2) When and where did you begin your serious interest in the history of quilts, textiles or garments?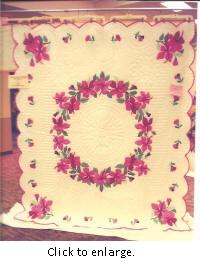 "I first became interested in the history of quilts when the Minnesota Quilters formed an offshoot group called the Land O' Lakes Quilt Study Group. Two members, Jean Carlton and Gail Bakkom, encouraged me to begin a study and I reported on Debbie Rake's exhibit of kit quilts at the International Quilt Study Center. Up to that time I was a bit of a snob about kit quilts, thinking that they lacked originality. But when I saw the beautiful quilts on exhibit, my opinion changed and I was off documenting as many as I could, collecting a few beauties for myself, and learning the stories of the designers and companies producing kits."


3) What "known" individual or group influenced you most and why?

"Merikay Waldvogel was the first to show interest and encourage me to continue. I found out that Shirley McElderry was considered an expert on the quilt kits, so I traveled to Iowa to meet her, and found a dear friend who was willing to share her knowledge and her copies of things I did not have."

4) Who became your personal mentor as you began your learning?

"There are several people I consider mentors, especially Shirley McElderry and Arene Burgess. These women had both been documenting kits for years before I met them. Sandy Schweitzer, an Illinois appraiser, was a great source of encouragement and gentle pushing to get my material published."

5) What aspect of study were you most passionate about at first? How has this changed over time and why?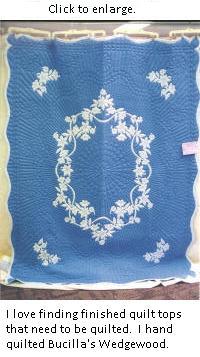 "The quilt kits were my first passion and I've been working on them now for at least seven years. I launched my website, www.quiltkitid.com in June of 2010. In the process of examining old catalogs, publications and ephemera (looking for the kit advertisements), I've discovered that I'm getting a more comprehensive view of the time periods I'm studying. I'm beginning to broaden my scope and see how quilting and quilt kits fit into the bigger picture of the 1930s, 40s, 50s, 60s, and 70s.

"In my own quilting, I've always enjoyed the challenge of designing my own quilts, but lately have been drawn to completing or reproducing vintage quilts."

6) What is your current "pet project"?

"I'm working on a comparison study of more than thirty state bird and state flower quilt designs for a study center presentation at the 2011 AQSG Seminar."

7) What aspect of your research or contribution to textile studies has satisfied you the most?

"Though there have been several people around the country working on quilt kits, there have not been any books published on the topic. I take satisfaction in providing information to appraisers and historians that has not been accessible up to now.
Wherever I've gone I have found new friends and the networking among members of the American Quilt Study Group has been incredible."
8) Within this arena, what would you like to do, but haven't done yet?

"I'd like to do more writing and my head is full of ideas for new quilts to make."

9) Any further comments are invited.

"Researching the quilt kit designers has been the most interesting part of this project. I developed a great admiration for women (and men) like Marie Webster and Ruby Short McKim, who were creative and found ways to make a living from their passion. It has also been exciting to find connections between the various companies producing quilt kits."
---
10) Please describe the contributions you have made via books, exhibits, presentations, contests, articles, fabric lines, research papers and the like.
Website: Quilt Kit Identification www.quiltkitid.com
Magazine Articles:
Article on Puff quilts, Pieces of Time, April, 2010

"A Comparison of State Bird and State Flower Quilts," Blanket Statements, Spring 2009

"Crib Kit Quilts," Pieces of Time (Iowa-Illinois Quilt Study Group), April 2008

"Details Matter: Identifying and Dating Kit Quilts," Pieces of Time, April 2007
Presentations:
Trunk Shows and Bed Turnings; featuring quilts from my collection.

"Ruby Short McKim" lecture at Quilters Hall of Fame, July 2008

Workshop on Quilt Kits; Quilters Hall of Fame, July 2008

Collaborated with Shirley McElderry and Arene Burgess on a Workshop on Quilt Kits for Iowa-Illinois Quilt Study Group, 2006
Collaborations: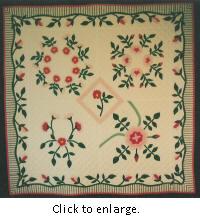 Ruby Short McKim Collaboration formed to assist Merrily McKim Tuohey, granddaughter of Ruby McKim, in remastering and publishing her grandmother's patterns.
Contests:
Winning quilt "Marie's Roses", using elements of Marie Webster's rose designs, entered in Quilters Hall of Fame contest commemorating the 150th Birthday of Marie Webster. 2009
______________________________________
Thank you very much for sharing yourself with us, Rose, and for the myriad knowledge and insights we have gained because of your efforts in this field. Continued success to you.