Quilt History
Today's Quilt Historians
Underground Railroad
Women at Work
---
New Pathways into Quilt History written by Kimberly Wulfert, www.antiquequiltdating.com

Reproduction Fabric Review by Kimberly Wulfert, PhD
"Squier Lane"
Reproduction fabrics from P&B
(Winter 2003-2004)
"Quilts from Squier Lane" by Diane Albeck-Grick.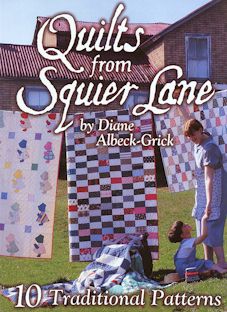 A new line of reproduction fabrics was introduced by P&B that is unique. It contains 36 fabrics of 12 different prints, in many colorways, that span a period of decades from the 1880s to the 1940s. The designer Diane Albeck-Grick used the fabrics she found in quilts from her Grandfather's dairy farm in Nicholson, PA. She had spent many youthful summers there. She used to sleep under, or should I say over, utility quits when visiting the farm. They provided the additional bed needed. Years later, she found these quilts and tops tucked away in trunks and drawers. They represented four generations of quilters in her family.

She began to finish and repair the quilts that needed it, and quilt the tops. She found great satisfaction in this and felt a stronger connection to her ancestors. Diane is a quilter who likes to use antique fabrics whenever possible and reproduction fabrics. She wrote a book about this, recently published by Chitra Publications. It's titled "Quilts from Squier Lane" by Diane Albeck-Grick. It's a pattern book of ten traditional quilts, with the story and pictures from the farm and family. From here, she sent pieces of the original fabrics to P&B and a sample of each of the twelve prints is below.

The main colorways are browns, blues, reds and greens. There are variations of those prints that are black, pink, lime green, aqua and orange too. These are the very clear and bright colors found in early 20th century prints. They are not pastel or muddy. The various shades of indigos and reds definitely fit in with 1880- 1910 reproduction fabrics made by other companies. So with very little effort you could make an accurate time-span scrap quilt. There are a variety of florals, stripes, checks, and shirtings, in various scales. This lends itself to an interesting scrap quilt and one that is indicative of the 20th century fabrics, where the scale increased in size after the popularity of smaller prints and stipes, commonly found in the 1880s, passed.

I have not seen motifs and prints such as these available in other reproduction lines of recent. They are unlike the reproduction 1920 and 30 prints so popular today. If you like scrap quilts from before the turn of the century through the 1930s, or one prefer one from each century, you could use just these fabrics (although more is always better I think) in a simple pattern and it would have the look of an old scrap bag time-span quilt. Today Diane lives just 25 miles from her Grandfather's farm that once sat on Squier Lane.
* Fabrics & Dyes

© 2005 - 2016 Kimberly Wulfert, PhD. Absolutely no copies, reprints, use of photos or text are permitted for commercial or online use. One personal copy for study purposes is permitted.
Fabrics & Dyes
Rugs & Textiles
Books & Reviews
Resource Links
Home
---
Visit my
online shop ...
for quilt history lovers!
* Gifts & Jewelry,
* Books & Stationery,
* Archival Supplies,
* DVDs,
* Quiltmaker Supplies.